Neck Physiotherapy Melbourne
Welcome to Melbourne CBD Physiotherapy, the top choice for neck physiotherapy in the Melbourne CBD area. If you're experiencing neck pain, we understand just how debilitating that can be. The good news is that you don't have to live with neck pain forever.
By seeking physiotherapy in Melbourne and talking to a member of our experienced team, we can tailor-make a treatment plan specifically to meet your requirements. No two people or injuries are the same which is why we take a holistic approach to your health care.
Headaches? Neck Pain? Melbourne CBD Physio can help. 
What is neck physio at Melbourne CBD Physio? 
Neck physio involves the assessment and management of symptoms such as pain, stiffness and referral of tingling, pins and needles or numbness into the head, neck and arm region. At Melbourne CBD Physio, we are experienced in the effective diagnosis and subsequent management of neck-related injuries such as headaches, wry neck and radiculopathy.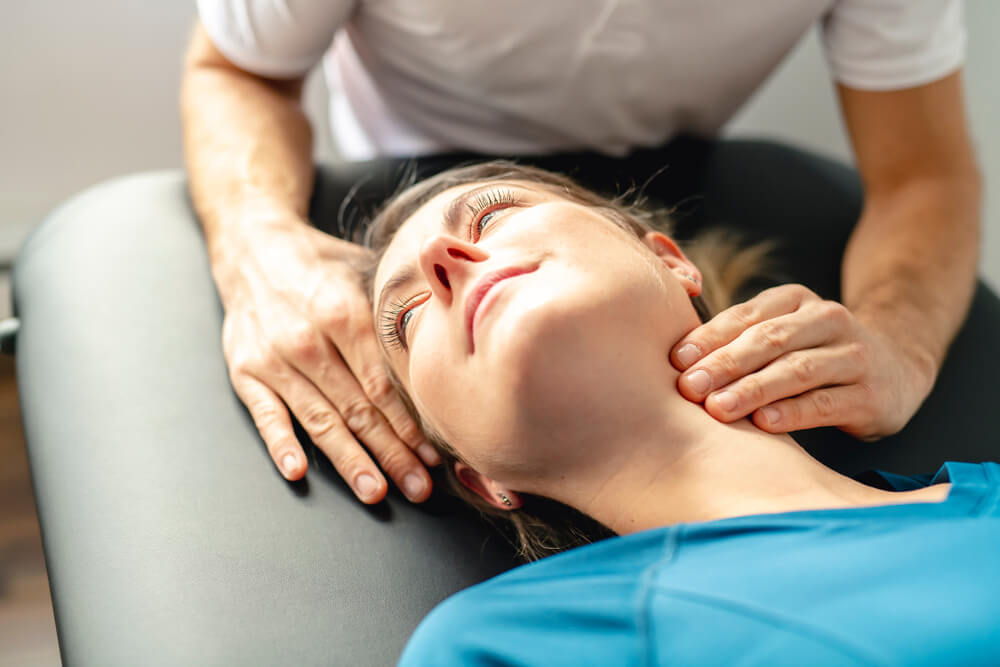 What does a typical neck physio assessment look like at Melbourne CBD Physiotherapy? 
The neck is a complex region as it transmits information about your body to and from your brain. A neck physio assessment begins with a detailed history of your symptoms and potential triggers, followed by a thorough physical examination involving head and neck movements and specific tests to establish the source of your injury and pain. We understand the neck can be an incredibly sensitive part of the body, so our physiotherapists will always ensure manual testing, treatment or patient exercises are performed safely and backed by evidence.
Want to know if neck physio is appropriate? Chat to one of our staff members, or book in to see one of our experienced physios to discover how Melbourne CBD Physio can solve your neck pain. 
Physiotherapy for Neck Pain
Using the most effective sports physiotherapy practices and innovative technology in the field of physiotherapy, our team of experts can help you with any and all muscular, joint and mobility-related ailments.
Neck pain is on the rise. Why? Because our lifestyles have changed dramatically in recent decades. With advancements in technology and the way we work, it's really no wonder that more and more people are suffering from neck pain.
Do I Need Physio for Neck Pain?
This musculoskeletal disorder is generally isolated to the neck itself but it's not uncommon for the pain to make its way into shoulders, upper back and arms if left untreated.
When you see a neck physio in Melbourne at our Melbourne CBD Physiotherapy clinic, we will begin by accessing the extent of your problem and give you a clear and accurate diagnosis. Starting with the diagnosis and assessment of your symptoms allows us to create the most effective treatment plan which will be specifically tailored to your needs.
We are the top choice for hands-on physiotherapy treatment and rehabilitation in Melbourne. You can expect to receive manual therapy, tailored exercise programs and advice on managing and preventing your neck pain when you come to us for neck physio.
Some of the most common injuries that we see neck physiotherapy patients for include twisted or locked necks, wear and tear, whiplash-associated disorders, and pinched nerves. Some people simply wake up one morning and find that their neck is twisted into a certain position and movement away from that position is incredibly painful.
Or neck pain can be caused by general wear and tear to the bones and joints in your neck, also known as arthritis. Perhaps you've been in a road traffic accident and the sudden, aggressive movement of your neck causes whiplash.
Alternatively, one of the disks in your upper spine could be compressing a nerve. Whatever the cause of your neck pain, once we establish a diagnosis, we'll be able to begin treatment.
Physio For Neck Pain From Melbourne CBD Physiotherapy
It has happened to us all – sudden, unpredictable, and often relentless neck pain caused by poor posture or simply sleeping awkwardly. Neck pain usually has a short lifespan and tends to improve almost as quickly as it began, but if you are suffering and need some extra guidance, it may benefit you to consult with one of our experienced neck physios at Melbourne CBD Physiotherapy.
Our physiotherapy clinic in Melbourne offers assessment, treatment, exercise rehabilitation and education for neck pain, as well as pre and post-operative physiotherapy if conservative management has unfortunately been unsuccessful. Most of our experienced staff have completed post-graduate qualifications and continue to stay up to date with the latest research while expanding their professional development portfolios. Whatever the cause of your neck pain, head and neck physio can make all the difference to pain, function and quality of life.
The Causes Of Neck Pain & How Neck Physio Can Help
Neck pain can strike us down unexpectedly at any time, but it can also be caused by a specific injury. Apart from idiopathic neck pain, we see patients that suffer from whiplash following a car accident, which is an extremely common injury that presents to our clinic. This is closely followed by falls and headaches.
Many of us also live and work in very sedentary roles causing us to suffer from neck pain on a daily basis. This can often be linked to our work set-up, such as a low desk height, badly positioned keyboard and mouse, unsupportive chair and all the other trappings of a working day routine.
In addition, age-related issues and overuse conditions can also cause neck pain that can not only prevent normal freedom of movement but can have other ramifications too. We have all experienced some form of neck pain at some point in our lives. This usually results in stiffness, headaches which occasionally lead to referred pain and even long-term problems if not managed effectively – so finding a great physio for neck pain can not only help you become pain-free but improve your overall wellbeing.
Here at Melbourne CBD Physiotherapy, we have extensive knowledge and experience that we can use to assess and treat your neck pain – with our patients all receiving their own individualised program that will include some hands-on treatment, tailored exercises to complete at home with trusted advice and education.
Physiotherapy For Head & Neck
Here at Melbourne CBD Physiotherapy, we are not satisfied with just getting our patients pain-free. Instead, we look towards improving their life beyond pain – whether that is getting more range of motion or improving athletic performance, we are here to help our patients achieve their goals.
An experienced head and neck physio that will take the time to not only help our patients get past the pain and stiffness they're carrying, but also create a simple progressive plan is vitally important to each individual outcome.
We are proud to be one of Melbourne's leading physiotherapy clinics, and with our talented and caring team on hand, we can help our patients with physio for shoulder pain, neck physio, and a wide range of other physiotherapy services, whether they're recovering from injury or undergoing rehabilitation after surgery. With our help, you too can be pain-free and ready to live the life you want.
Book Your Appointment Today
If you think you might need physiotherapy for neck pain, speak to a friendly member of our team today. With our experience and knowledge, we'll be able to generate the perfect course of action specifically for you.
We're committed to delivering a premium physiotherapy service to all of our clients and ensuring patient satisfaction from beginning to end. If you're ready to be free from your neck pain, drop by our clinic in Melbourne, call us or book an appointment online today!